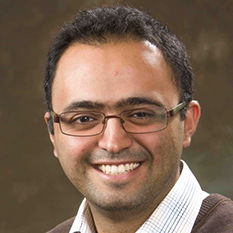 Amin Karbasi

Faculty

amin.karbasi@yale.edu

17 Hillhouse, New Haven
Amin Karbasi is currently an associate professor of electrical engineering, computer science, and statistics and data science at Yale university. Prior to that he was a post-doctoral scholar at ETH Zurich, Switzerland (2013-2014). He obtained his Ph.D. (2012) and M.Sc. (2007) in computer and communication sciences from EPFL, Switzerland and his B.Sc. (2004) in electrical engineering from the same university.
Student Awards
I am proudest of the recognitions my students/mentees received, including:
Graduate Fellowship for STEM diversity from NSA received by Jane Lee
Simons Research Fellowship 2021 for Chris Harshaw
Brain Initiative Trainee Award 2020 for Javid Dadashkarimi
Simons Research Fellowship 2020 for Lin Chen
Facebook-Main Award 2019 for Mehraveh Salehi
Ivy 3-Minute Thesis Competition Award 2019 for Mehraveh Salehi
Best Poster Award in International Workshop on Connectomics in Neuroimaging, MICCAI 2019 for Javid Dadashkarimi
Google PhD Felloswhip Award 2018 for Lin Chen
MICCAI Young Scientist Award 2017 for Mehraveh Salehi
Early Postdoc Mobility fellowships 2015 from Swiss National Science Foundation for Ehsan Kazemi
Awards
GRAIL 2022 best paper award for the paper "Transforming connectomes to 'any' parcellation via graph matching"
Bell Labs Prize 2021 for "Reading the Brain: From Neurons to Bits"
NSF CAREER Award 2019
ONR Young Investigator Award 2019
Amazon Research Award 2018
AFOSR Young Investigator Award 2018
Microsoft Azure Research Award 2017
Grainger Award 2017 from National Academy of Engineering for Advancement of Interdisciplinary Research
MICCAI Best Paper Award 2017 for the paper "A Submodular Approach to Create Individualized Parcellations of the Human Brain"
Simons Research Fellowship 2017 for "Foundations of Machine Learning"
DARPA Young Faculty Award 2016
Google Faculty Research Award 2016
AISTATS Best Student Paper Award 2015 for the paper "Tradeoffs for Space, Time, Data and Risk in Unsupervised Learning"
IEEE Data Storage Best Student Paper Award 2013 for the paper "Noise-Enhanced Associative Memories"
Patrick Denantes Memorial Prize 2013 for the best Ph.D. thesis in the school of computer and communication sciences at EPFL
ETHZ Fellowship Grant 2013
ICASSP Best Student Paper Award 2011 for the paper "Calibration in Circular Ultrasound Tomography Devices"
ACM SIGMETRICS Best Student Paper Award 2010 for the paper "Distributed Sensor Network Localization from Local Connectivity: Performance Analysis for the HOP-TERRAIN Algorithm"
ISIT Best Student Paper Award Nominee 2010 for the paper "Graph-Constrained Group Testing"